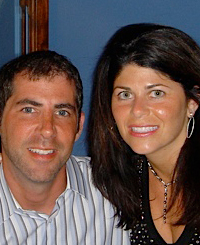 The Philly Condo Store was founded in 2005 by Natalie Rounick and Jared Kotler. In 2010 they joined US Spaces, Inc. to raise the bar of real estate service in the Center City and Main Line areas by providing the most comprehensive service to buyers, sellers and investors. Fred Glick and the real estate professionals at US Spaces, Inc. are thoroughly familiar with the ins and outs of Center City and the ever changing condominium rules and regulations while Natalie and Jared have in-depth knowledge of the diverse communities of Philadelphia and Main Line real estate, as well as shifting trends in local, regional and national markets. Together, US Spaces and The Philly Condo Store have the drive, focus and experience that make the entire buying or selling process faster and easier than ever before.
Jared Kotler
Before becoming a real estate agent, Jared Kotler was an artist advocate, business man and multi-platinum award winning record producer. With achievements in airplay, number one singles and millions of records sold, he conquered what most consider the hardest industry in existence. Jared brings the same spirit of achievement to real estate. Soon after Jared wrote and produced the longest running number one single on Billboard's Modern Rock Chart, the death of his father led to the responsibility of several properties including multi family and commercial buildings, which brought him back to Philadelphia. "I wanted to know more about what I was involved in so I got my license and haven't looked back. I am proud to have added real estate agent to my list of credits. I helped people realize the dream of becoming a recording artist. Real estate is a dream for many people and making dreams come true is something I have a knack for!"
Natalie Rounick
Natalie's genuine nature and honest desire to help makes her a 'cut above' most agents. Specializing in Center City and Main Line real estate for the past five years, she is the last person to discuss her achievements in the area of business. Natalie's energy and business acumen are able to be realized for her clients. Before becoming a real estate agent, Natalie was an integral part of a retail clothing chain which sold in 2007. As one of the buyers for 350 stores nationwide, she contributed to the success of the company. With 350 stores, our business was as much about real estate as it was about clothing and fashion. I enjoyed every aspect as well as traveling and meeting people from all walks of life." Detail oriented to an unyielding degree is precisely what clients appreciate. "We have never lost a deposit, never had a complaint, and never had a holdup at settlement." This is an accomplishment Fred Glick and Jared Kotler directly attribute to Natalie, both in achieving and maintaining. One of the most rewarding things for Natalie is finding the right home for her clients. "It's like matchmaking and I guess I'm a romantic at heart." Perhaps one client said it best, "Natalie will provide you with only the highest level of service at all times. When she tells you to call anytime, she means it. When she says she will do something immediately, like home searches or make appointments, it's as good as done." Jared and Natalie know the level of care they provide limits their number of clients. They are not looking to be the biggest or have the highest sales volume. They pride themselves on maintaining friendships with their clients long after the transaction. Referrals are another big part of the real estate business and they know a referral is one more compliment to a job well done.